Where can you go to receive a comprehensive, innovative and informative cloud ERP experience? Our yearly Acumatica Summit gives you – our community of customers and partners – dedicated time to learn more about Acumatica's true cloud ERP capabilities as well as how to apply them fully. Our scalable, flexible, and real-time ERP system offers the complete business management solution you need for today and tomorrow.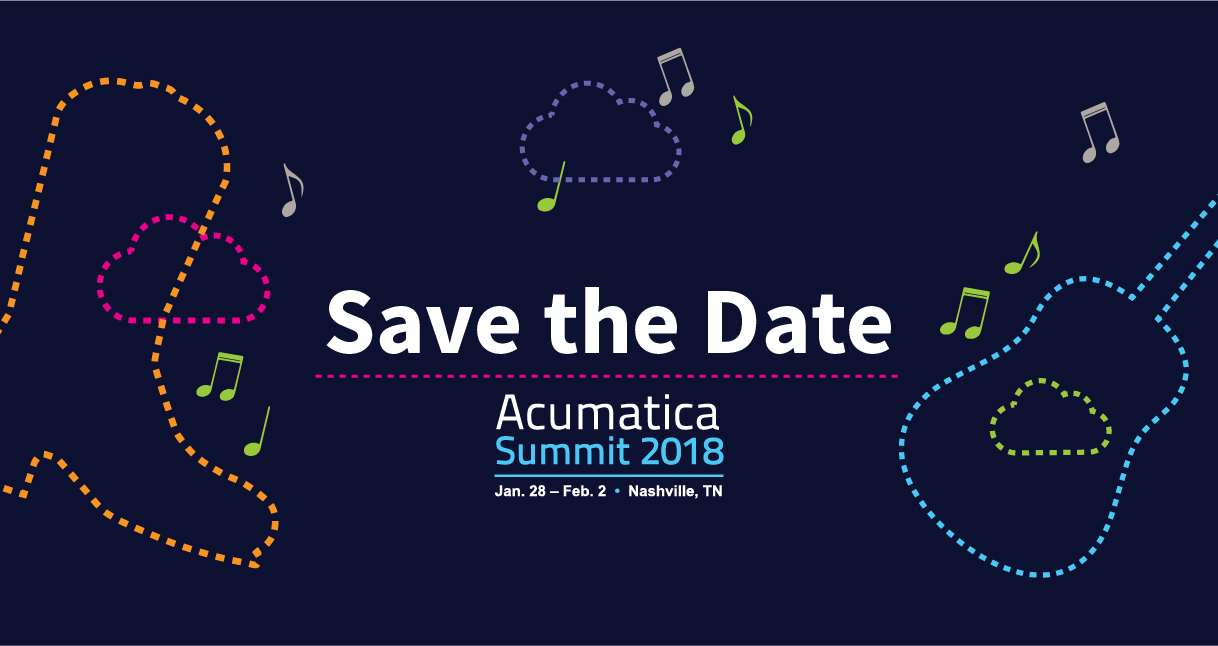 Acumatica Summit 2018 is happening January 28-February 2, 2018 and this year we are headed to Nashville, Tennessee. Saying it's going to be big is really an understatement: 2018 is Acumatica's 10 Year Anniversary! Mark your calendars now because you're not going to want to miss out on the celebration.
Early Bird Registration is open.  Click Here for more details
What happens at our Summits
If you are on the fence about attending, then let me tell you about what happens at our amazing, educational, and fun-filled Summits.
Our invite-only event opens the door to a world focused solely on accelerating your business. Insightful keynote sessions, a vendor expo, specifically designed breakouts, motivating speakers, hands-on training and – very importantly – food and entertainment pack the week. The Summit has everything our customers and partners need to take advantage of Acumatica's latest products and solutions, including product certifications. And it's a chance to collaborate with the best in the business.
Here are even a few more things you can expect at the Summit:
Face-to-face interactions with Acumatica's leadership, product and engineering teams
Networking with hundreds of your industry peers
Attending hands-on technical training tracks
Engaging with our leading ISV providers
Gaining certification through instructor-led training by Acumatica developers
Receiving insight into future product roadmaps and LIVE demonstrations
Save the Date for Acumatica Summit 2018 means setting aside time in your busy schedule to lay the foundation for your business' future. Let the fastest growing cloud ERP system on the market today help set you up for success. Registration will open up soon; stay tuned for that announcement.
by Michaela Terrenzio
---
For 30 years, Collins Computing has been selling and supporting accounting software solutions. We're experts in Microsoft Dynamics GP and Acumatica Cloud ERP.
Exclusively focused on implementing the best ERP solutions to the mid-market.  Our success has been proven with hundreds of Microsoft Dynamics GP ERP and Acumatica Cloud ERP installations and implementations throughout Southern California (Los Angeles county, Orange County, San Diego county, Riverside county, Ventura county and San Bernardino county), Phoenix Arizona and Oregon.
Our staff is all about excellence and customer satisfaction.  We can handle all your needs, from implementation, customization, and ongoing support.  With our team working for you, you will get access to not only the best ERP solutions on the market but the best onsite and offsite support and training.
To learn more about how Collins Computing can help bring your company up to date on the latest Cloud ERP technology and systems, Contact our Expert ERP Team Today